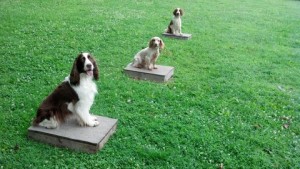 Our lifestyle obedience training program is built by gaining a control of your pet and teaching them the basic commands of Sit, Stay, Come and Heel. We also incorporate crate training and socialization and work consistently on establishing good manners such as not jumping on people and learning how to relax.
We believe by giving your dog structure and exercise, it can become a canine good citizen.
Our training areas include a large fenced facility which allows for controlled yard work and a 140 acre preserve for exercise.
We also expose them to more active locations such as malls and busy hiking/biking trails. Also in this program we offer your dog supervised "House Time" where we work on behaviors requested by you, the owner.
Our guests are boarded in climate controlled, inside kennel rooms directly attached to our residence. (We can look at them from our kitchen table). Three separate fenced outside yards allows for secure and safe exercise and monitored interaction among our trainees.
Because of the interactive nature of this program space is very limited and reservations are required. This program is customized to fit your lifestyle. If you're looking for a dog you can take hiking or biking, walking or jogging, this is for you. And of course, your pet's safe keeping is our #1 priority
Your dog will go through a free evaluation where you will have the opportunity to help formulate a training strategy customized for your lifestyle needs
Programs Include:
– Free Evaluation
– Boarding
– Mid week progress reports via email
– Follow up lessons for the owner
– Training Handouts
2 Week Program $1300. Daily rate: $100